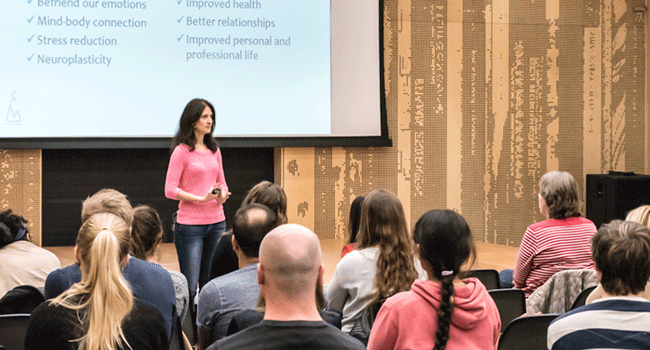 Self-management – a powerful tool during the exams and after
For students, PhDs and alumni from AAU in Aalborg
Tidspunkt
03.10.2017 kl. 13.00 - 15.00
Beskrivelse
Overwhelmed by too much information?
Anxious about the exams that are approaching?
Challenged by working in a group?
Stressed about deadlines?
Worrying about the future?
Willing to self-manage yourself to get the best results while being still in balance?
The Self-Management workshop is introducing mindfulness concepts that support you in improving your Focus, Decision Making, Adaptability to Change, Resilience, Relationship with Self and Others, Communication, Physical and Mental Health and Wellbeing.
You will learn some tools and techniques that will enable you to:
have longer periods with sustained focus while studying for exams and during the exams
recognize distractions faster and make better and conscious choices about how to use your time
remain calm when you feel overwhelmed by the amount of information coming your way, when deadlines approach, or during exams
improve your creativity, especially while finding solutions for projects
improve the relationship with yourselves, increasing self-esteem, self-acceptance and self-compassion
improve relationships and communication with your colleagues and university staff
reduce the stress of everyday life and have more perspectives during challenging situations
Speaker: Carmen Manena, professional Co-Active Coach and Mindfulness Trainer

Questions?
Please contact Trine Nordal Borglum, tnob@adm.aau.dk, 99 40 24 42

Arrangør
AAU Career
Adresse
Barbaren, Fibigerstræde 15., 1., 9220 Aalborg Ø
Tilmelding inden
02.10.2017 kl. 12.00